OUR IMPLANT TREATMENT

OUR IMPLANT TREATMENT
We offer The Best Treatment for Each Patient.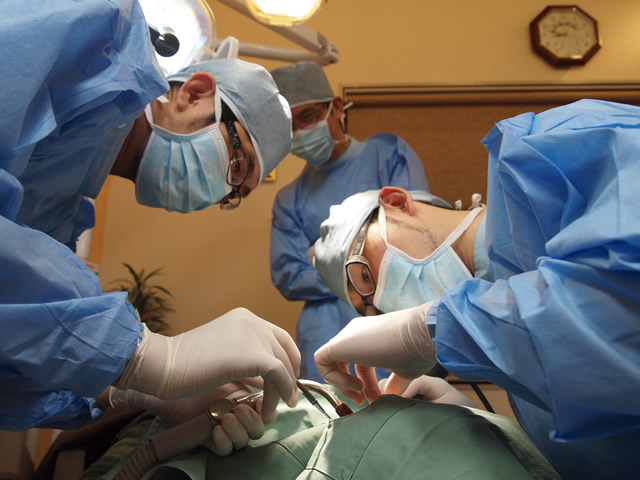 We have mottos of offering The Best Treatment for Each Patient.
According to news, unfortunately some doctors in current dental industry easily suggest implant treatment because it is very profitable. In our clinic, however, we prioritize the best treatment for each patients, not just pursuit of profit.
Of course implant is the best treatment in current dental care, but we don't suggest it to any patients.
In our clinic, professional informed counselor offers detailed counseling before treatment.
And experienced doctors diagnose patient's symptom precisely and offer you the best treatment for each of patient.
Characteristics of our implant treatment
1. With home-visit dental care, you can maintain the implant care in case you become bedridden in future.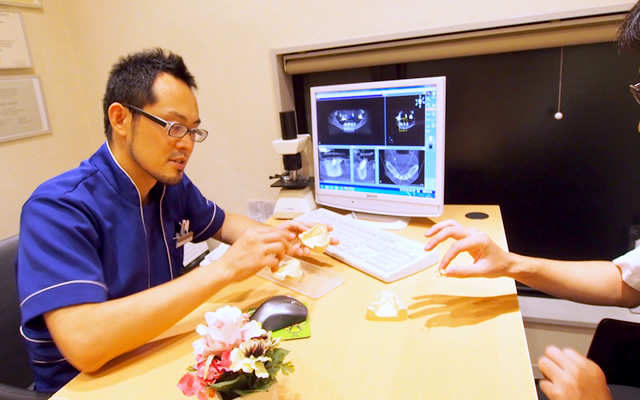 We also focus on home-visit dental care for elderly and handicapped patients.
There's no worry for patients who worry about "I may not be able to visit dentist regularly when I get old in future."
We offer home-visit dental care in wide spread area focusing on Osaka-fu.
*There are some areas we can't visit, please feel free to ask us for details.
2. We keep offering detailed and polite informed consent until you agree.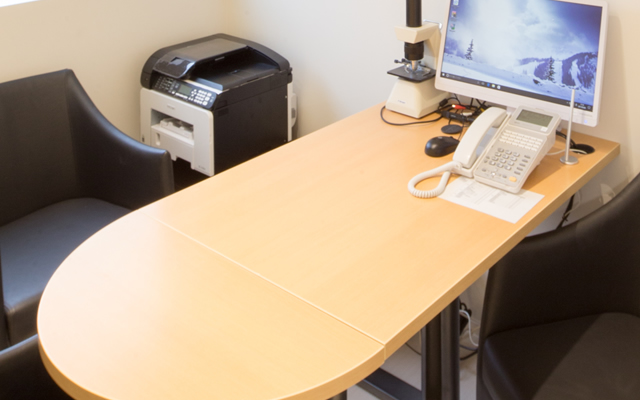 We would carefully listen to patients' need including their lifestyle and treatment, since implant treatment is for improving the quality of life. Doctor in charge and informed counselor would offer informed consent and deal with patients' worries and questions in order to provide them with comfortable implant treatment without any worries.
3. We issue 5 years warranty of implant treatment.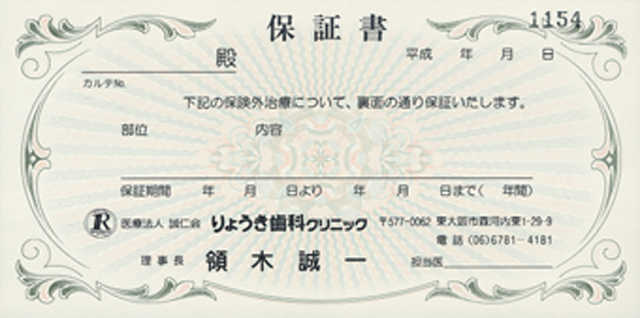 We issue 5 years warranty for patients who take our implant treatment.
This also shows our confidence in our implant treatment.
Patients can take our treatment without worries after the treatment.
4. We surely take CT shooting to avoid medical accidents.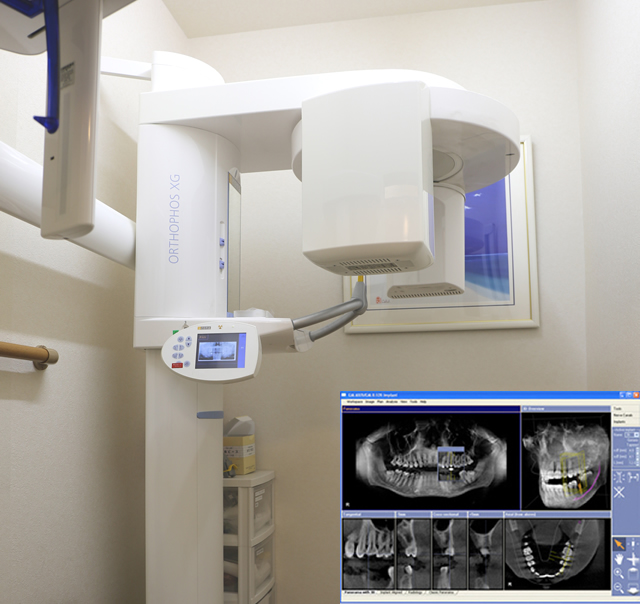 We always take CT shooting (laminagraphy) before implant treatment in order to avoid medical accidents.
CT shooting shows the depth in 3D, and we choose the best size of implant beforehand. We use dental CT for this.
5. We offer private room and sterilized environment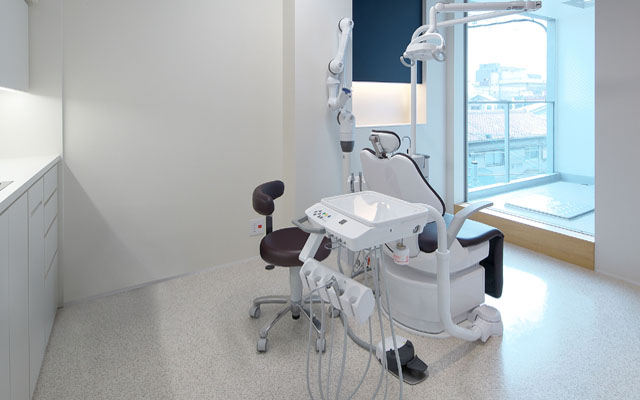 We offer private room for patients who take implant treatment.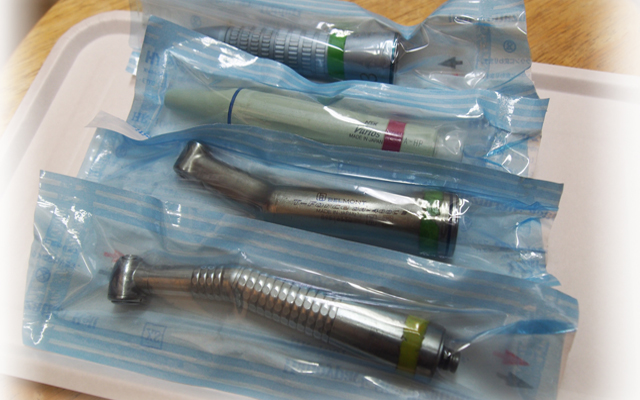 We completely keep sterilized environment: operators wear sterilized gown and gloves, equipment for surgery is put in sterilized pack and opened before surgery. We also implement high-pressure sterilization, and you can take surgery safely.
6. We deal with complicated surgeries other clinics declined.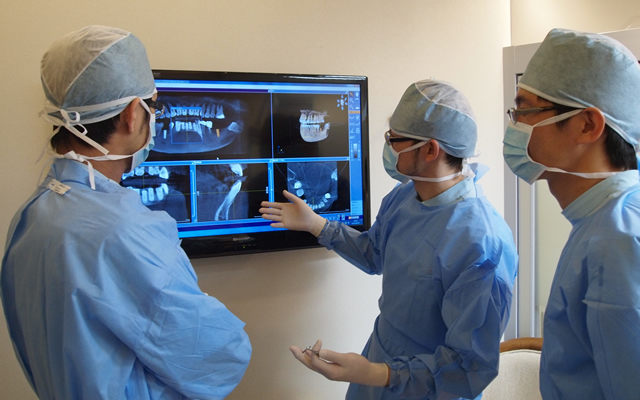 Our doctors always study the knowledge of dental care, and improve their techniques through many kinds of training. They deal with complicated surgeries other clinics declined including bone transplant, surgery to increase bone, surgery to create bone in maxillary sinus.
If you or someone you know have been declined with surgery, please contact us.
7. We apply high-quality implant made by reliable manufacturers.
There are hundreds of implant manufacturers in the world. Although new implants are sold, but some of them are vanished because good treatment achievement can't be made.
If implant made by unpopular manufactures is used, there may be following cases in maintenance: When you switch doctors due to the moving, new doctor don't apply the manufactures you use, or there are no parts for replacement.
Implant is called as "2nd adult tooth" and worked for decades, we select reliable one very carefully.
Branemark system produced by Nobel Biocare
This implant is applied as clinical applications by the pioneer of implant system, Dr. Branemark in 1965.
Branemark system achieved the most clinical applications for more than 40 years, and offer implants compatible with many kinds of symptoms and bones, and still provides parts for old products.
Because Nobel Biocare has sales network in 70 areas in the world, you can take re-treatment of maintenance in the foreign countries.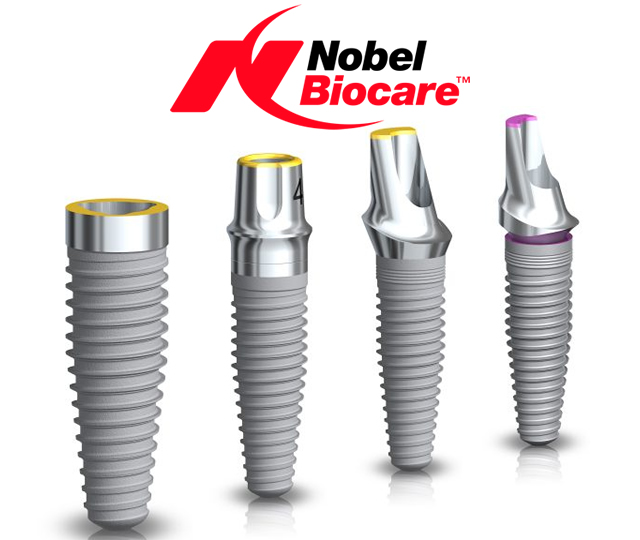 Xive produced by Dentsply
Xive overcomes all defects of implant.
Surface of implant body is made of newly developed material called cell plus, and it connects bone and implant faster and stronger. (Within 8 weeks)
Also, big screw of Xive is excellent with initial fixing, and fix with hollow bones of brittle-bone disease very well.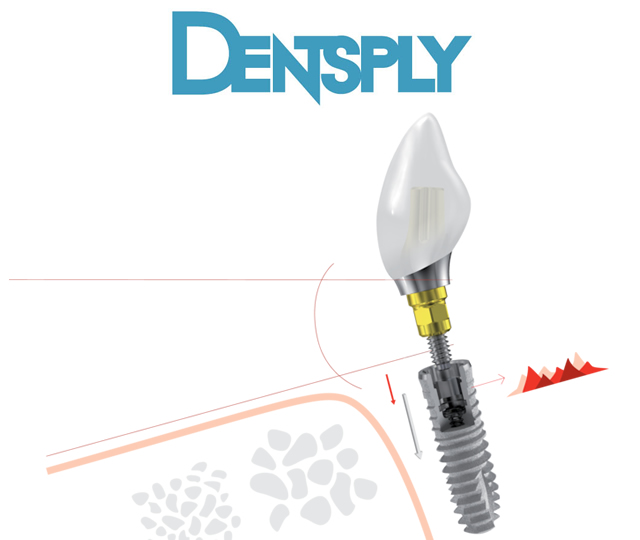 8. Treatment period can be cut by half depending on cases.
Surgery takes 10 to 20 minutes in average, and within 1 hour in most cases.
Treatment period takes a few months depending on the cases.
We also deal with extraction and embedding at the same time to cut the treatment period by half.
Normally in dental implant, after 2 to 6 months of healing from tooth extraction and bone is regenerated, implant surgery is implemented, but this method has following problems:
Implant surgery become harder because bone absorbs after extraction
Treatment period gets longer
To solve these problems, there is a method of extracting and embedding tooth at the same time. Since Shulte reported this method in 1978, there have been many reports.
(This method creates gap between implant and bone, but bone reproduce in this gap as long as this gap is within 2mm.)