All-on-4 is the treatment supporting 10-12 teeth with 4 implants.
Implants are implanted on an angle, so power to bite can be distributed to implants evenly.
All-on-4 is for patients who use full dentures and who lost many teeth.
Cost of surgery can be saved to the minimum because 4 plants support all artificial teeth.
All-on-4 can be done within 1 day from pulling out teeth, implanting implant, to attaching false tooth.
*Depending on the bone quantity and symptoms, there is the case that 4 implants can't be enough to support. Please contact us in advance.
1. Treatment can be done without big surgery in the most cases, because transplanting bones and moving nerves are unnecessary.
Implants are implanted around the front tooth which has bone compared to a molar which has thick nerves, blood vessel, and maxillary sinus.
2. Less physical burden
Decreasing numbers of implant reduces bleeding, swelling after treatment, and pain to the minimum, and remarkably shortens the treatment period.
3. Treatment period can be remarkably shortened, and you can chew on the same day of treatment.
On the same day of All-on-4 surgery, fixed false tooth is implanted and you can start eating.
You don't have to wait for a few months until tooth is planted as seen in normal implant.
So All-on-4 is also called "One day implant".
4. Cost can be saved than traditional implant treatment.
Normally if there are no teeth, 10 to 14 implants are necessary for each upper jaw and lower jaw.
While in All-on-4, only 4 implants (in some cases, 5 to 6 implants) are needed for each upper jaw and lower jaw4, and treatment cost can be saved.
5. You can have beautiful-looking teeth
All-on-4 allows free layout of covered teeth than traditional implants, and you can have beautiful-looking teeth. After attaching the final bridge, you can eat as if you have your own teeth.Final bridge is attached (Right)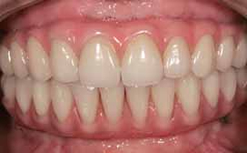 Process of All-on-4 Treatment
STEP01.
After you contact us, apply the counseling.

STEP02.
We set the date and have a counseling.
(On this counseling, we will explain the details and answer your questions.)

STEP03.
After you apply our implant treatment, our doctor will have an informed consent about the actual methods and period of your treatment.

STEP04.
Based on the treatment schedule your doctor has planned, implant treatment starts.
Q:I still have a few teeth left, but can I take All-on-4?
Yes, you can. As for patients who have teeth left or who have artificial teeth, we will pull them out on the surgery. After a few hours the All-on-4 is implanted, you can have new (temporary) teeth within a day (Depending on the symptom, it will be the next day).
---
Q:How long will All-on-4 maintain?
According to the medical literature of All-on-4, survival rate of implant after a year of surgery is 97.6% in upper jaw, 98.2% in lower jaw, and 100% as a bridge. This result shows success rate of All-on-4 is quite high.
---
Q: I worry if it hurts.
We apply anesthesia during the surgery, so you don't feel pain.
Also, mouth has less of the extent of surgery and easier to recover compared to other parts in the body. Many patients who had the surgery say it was easier than they thought.
---
Q:I'm getting old and have less confident in my physical strength. Can I still take All-on-4?
The system we explained above is also suitable for elderly people and people who have less confident in their physical strength. However, there may be the case you can't take All-on-4 depending on the state of jaw.
---
Q:Will brushing of teeth be hard after the surgery?
We can say it will be easy because you have only 4 implants.
Using the cleaning implement of water-flow type besides teeth brushing can be more refreshing.
---
Q:What should I care about food after All-on-4 surgery?
It will be better if you avoid to eat the hard food for a while after the surgery not to burden the implants.