GENERAL DENTISTRY

GENERAL DENTISTRY
We offer insured/uninsured treatment
according to your needs.
In the treatment like cavity treatment, there are insured/uninsured treatment.
We offer the best treatment considering to your symptom, needs, and life stages.
After treatment we offer regular checkups and support to maintain the healthy state.
Differences between insured treatment and uninsured treatment
We offer insured/uninsured treatment.
What's insured treatment?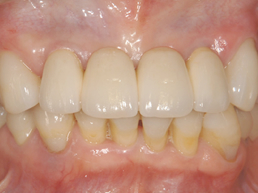 Insured treatment is the treatment you can take with the health insurance card.
You pay 30% (For elderly and infant 10-20%) of treatment, and can save the burden.
Instead, with insured treatment has many restriction from treatment method to used material. For example, Ceramic cover which causes less allergic reaction and discoloring is not covered by insurance.
In insured treatment, we offer limited treatment the health insurance system allows.
Ex1) Only metal is used for tooth fillings.
Ex2) Only material which will discolor a few years later is used for the front teeth.
Limited material might cause the following problems:
1. Appearance look unnatural
2. Bacteria will breed easily
3. Discoloring occur as the time has elapsed.
Example of insured treatment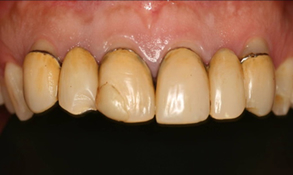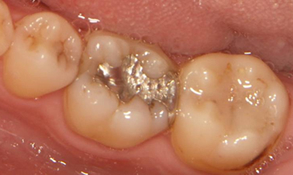 What's uninsured treatment?
In uninsured treatment, there are no limitation in treatment method and used materials. This will enable us to offer you the best matched treatment.
Using material and technology which are limited in insured treatment is called uninsured treatment. From wider variety of choice we can select the best treatment for you.
Since this treatment is not covered by insurance, you will cover all the expense. As for the materials used in uninsured treatment, please look at the brochure with pictures and samples we have.
We issue warranty for all patients who took our uninsured treatment.
*We have price lists for uninsured treatment. For details, please ask your doctor or informed counselor.
Example of uninsured treatment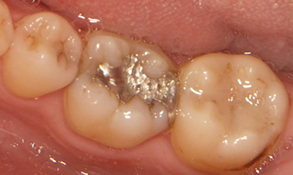 BEFORE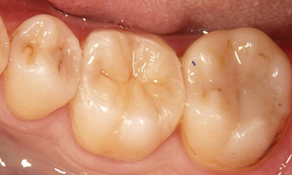 AFTER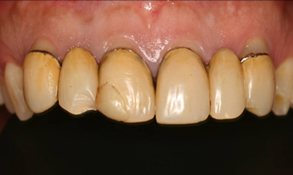 BEFORE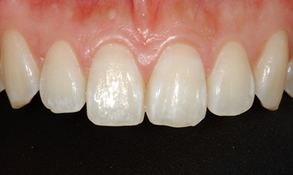 AFTER
About the warranty (Only for uninsured treatment)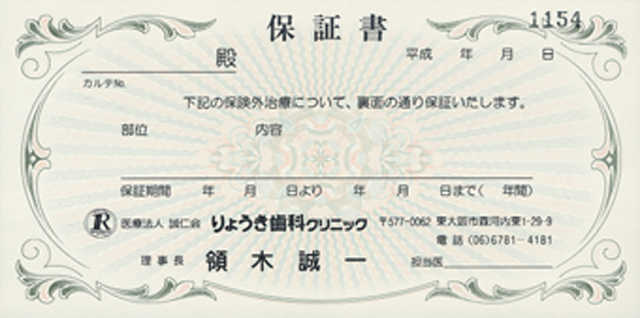 We offer 5 years warranty if patients who took uninsured treatment takes regular maintenance.
(For Short-term intensive care, 8 years guaranteed)