Short-term Intensive Care

Short-term Intensive Care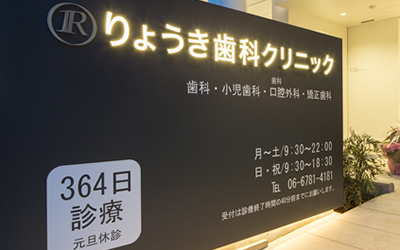 At the point of the first treatment, we plan the treatment schedule.
Please choose your convenient date and time from 9:30~21:20 in 364 days except Jan.1.
Of course we accept the change of schedule, so please let us know.
Treatment is done in private room, and reception is also different from other patients.
You don't need to wait in the waiting room.
We offer treatments which can be done in a same day all together, so treatment of one time takes longer time.
In stead, the frequency of visit can be reduced, therefore you can save the time for transportation or interruption of your work.
Also, with the painless treatment we will explain later you can take long-time treatment without pain or discomfort.
We promise the best treatment.
We offer general treatments by experienced doctors who learned general dentists, implant, orthodontics, and aesthetic treatment.
Cooperating with doctors who are professional of root canal, anesthetists, dental technicians, and dental hygienist, we offer the best treatment.
Of course we use the high-quality equipment and materials.
We offer the best treatment
We offer the best treatment plan to make your teeth the best condition, including treatment for cavities and periodontal disease, replacement of the teeth or false teeth which have already treatment into the safe and beautiful material, orthodontics and whitening.
We show you the details of time schedule and cost, so you can consult with doctors and informed counselors, and choose the best time schedule and cost.
After starting the treatment, please feel free to ask anything to your informed counselor.
We implement the painless treatment cooperating with anesthetist.
In the implant surgery and root canal therapy, we apply intravenous sedation method by anesthetist to relax mentally.
Topical anesthesia is needed for a treatment position, relaxing mentally can ease your pain and anxiety of surgery. (Some patients fall in sleep during the surgery.)
Some people don't like topical anesthesia itself, but we can offer the painless treatment with skilled anesthesia technique and equipment.
1 day CEREC course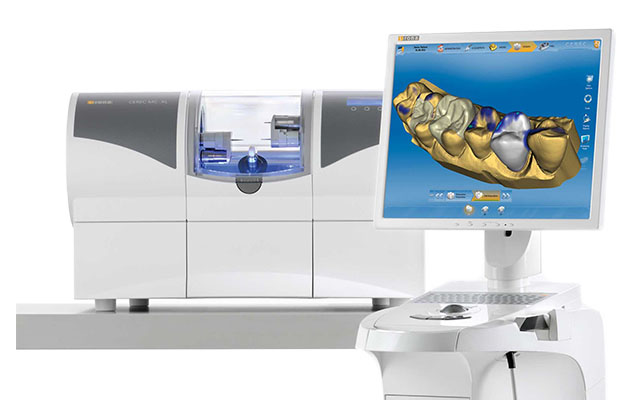 Installing new technology, we offer 1 day CEREC treatment with high quality and fast speed.
Without visiting us many times, we can offer beautiful prosthesis made of ceramic and finish treatment within a day the shortest(*).
We install CEREC system, create 50 CEREC a month, and offer smooth and high-quality treatment.
*There may be the case treatment can' t be done within a day depending on the treatment.
For more safe and comfortable treatment
We offer hospitality and comfortableness.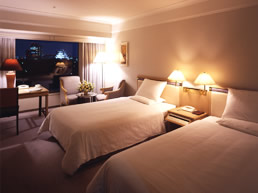 For patients from far area, we provide accommodation at Hotel New Otani 10 mins by taxi from our clinic.
You can stay there at lower price than usual due to the partner plan, and we offer you with special meal after implant surgery.
In the case you have trouble with your teeth under treatment in trip, we introduce trustworthy dentist within our network, and we share the treatment process with the dentist. Our network stretches to Singapore, and continue to expand.
We issue warranty for the treatment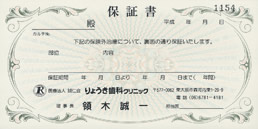 All treatment and check-ups in Short-term Intensive Care are uninsured.
As a proof of treatment with high-end technology and materials, we issue 8 yearswarranty for tooth fillings, implanted tooth, and false tooth. (5 years for normal uninsured treatment)
In case you have trouble with them, we fix and reattach for free. However, to valid this warranty you need to take regular check-ups.
Daily maintenance is important for the oral health. We would like to be your life-time partner.